---
Seattle Cosmic Game Night
(Saturday, 20 October 2001)
Many People, Many Games
by Ron Hale-Evans
Seattle Cosmic was locked again in mortal combat on 20 October 2001. Present were Marty and Ron Hale-Evans (yours truly), Mark Purtill, Tim Higgins, New-ish Guy Chad McDaniels (who first came on 5 October, but I haven't gotten to that newsletter yet), Karl Erickson, Lesley Hooker, and Meredith Wilson. Meredith's husband Bob Wilson was also present at the beginning of the evening, for a total of eight or nine people, depending: a pretty good turnout, as we were expecting four or five.
---
Cosmic Encounter
Marty, Ron, Mark, Tim, Mer, Lesley, and Bob played Cosmic Encounter, since it was a Cosmic Night. Since Mer, Lesley, and Bob are all relative Cosmic newbies, they decided to play on the same "team"; unfortunately, Bob left shortly to save his voice for singing at church the next day (he is allergic to our dogs). The collective IQ of Mer, Bob, and Lesley's alien race suddenly dropped about 33%.
And what aliens did we play? We performed our semi-traditional "draw four, toss one, pass one left, pass one right, and keep two" method of alien selection. Here are the aliens we picked:

Mer/Lesley:  Sniveler-Oracle
Ron:         Stain-Clone
Marty:       Vampire-Delegator
Tim:         Demigod-Connoisseur
Mark:        Scavenger-Alloy

We all dreaded Mer and Lesley's Sniveling, but fortunately (?) they did too well throughout most of the game to snivel.
Tim may have enjoyed his Demigod power too much. Demigod is an Internet power that enables you to compel other players to sacrifice tokens to you or lose the challenge. Tim also had a Wild Busybody Flare, which allowed him to keep swapping other players' hands, which he also did with relish.
It looked as though Marty was going to win when she played the Wild Miser Flare on gaining her fourth external base; Wild Miser enables you to win with only four bases. Mark played a Flare Zap on her, though, and she had to discard it. The beat (-ing people up) went on...
...until Mark's turn. As Scavenger (an Internet power), Mark could poke through the discard pile to draw his cards. He had four bases. Guess which card he drew from the dicard pile? If you said "the Miser Flare", your species must be highly sapient.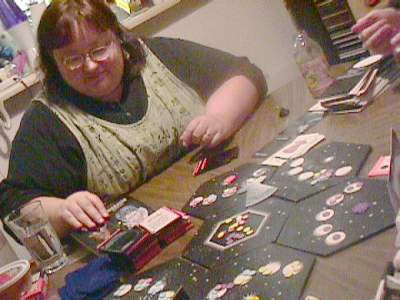 Almost the winner
Needless to say, it was a solo win for Mark. He was awarded a boxer dog hand puppet.
---
Zertz
Meanwhile, Karl and Chad, old buddies from being former coworkers at LoudEye, a Seattle software company, split off to play Zertz. Zertz is part of the Gipf Project, a set of interlocking abstract games. Karl and Chad played five quick games while the rest of us were playing Cosmic, and Karl won three of them, for which he was awarded what looks like the world's smallest computer monitor but is in fact a floppy disk holder.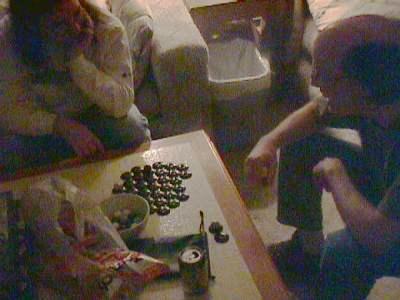 Chad (L) and Karl (R) play Zertz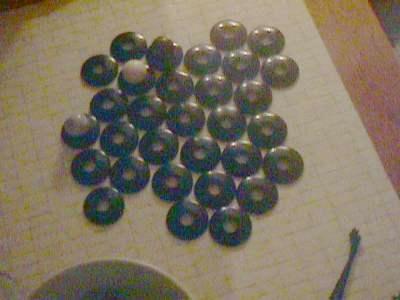 The Zertz board
We also owed Chad a prize from the first time he came to Seattle Cosmic a couple of weeks ago, so we gave him a plastic day gecko (in other words, a toy lizard).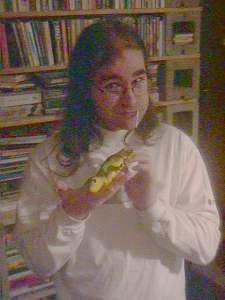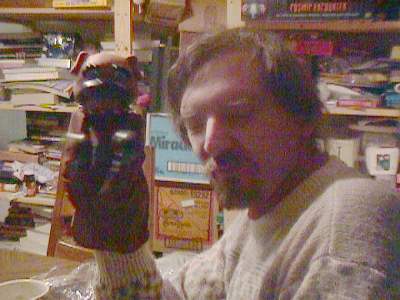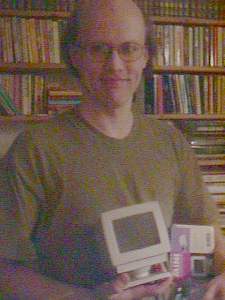 (1) Chad loves his lizard. (2) Mark winces as his Boxer boxes. (3) Karl gets small with his monitor.
---
Chinatown
Next up, Tim, Ron, Mer, Lesley, and Marty started a game of Chinatown. (Mark, Karl, and Chad split off to play Java.) Tim described Chinatown as "Acquire with trading". I'm not sure that's quite accurate; you are trying to get adjacent spaces on the board on which to place businesses, but there's none of the stock-market action that happens in Acquire, nor can you merge businesses in any meaningful sense. But it was a lot of fun! Marty says, "It combines company-building, trading, resource management, and real estate savvy. A big thumbs-up from me!"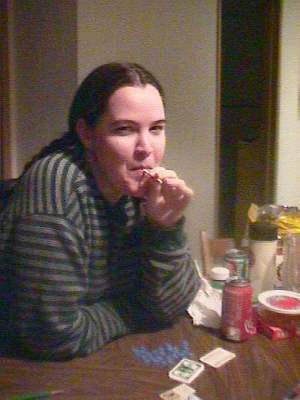 Lesley licks a lolly
By the way, the Jolly Rancher lollipops that Mer and Lesley brought for a snack get a big thumbs-up from ME. Putting Jolly Ranchers on sticks is an act of marketing genius as far as I am concerned, or perhaps an act of Ghod.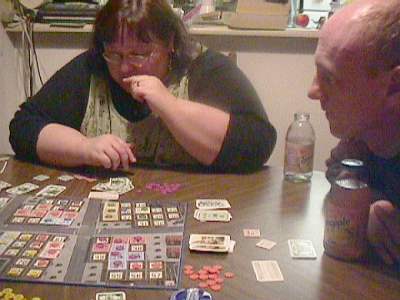 Marty (L) and Tim (R) do big business in Chinatown
As predicted, Meredith did quite well, as it was a trading game. Tim did even better, winning the game by $3K, and receiving a Sticky Skull (which glows in the dark and flops down a wall when you throw it) for his victory.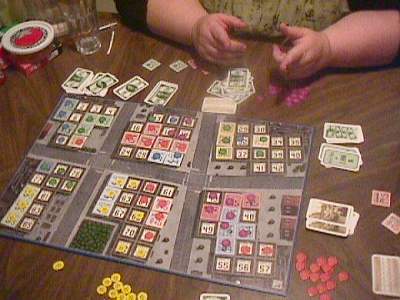 The Chinatown board

Chinatown scores:

Tim:    $104,000
Mer:    $101,000
Ron:     $98,000
Marty:   $91,000
Lesley:  $61,000

It was now about 10:35 PM, and Mer and Lesley left.
---
Set
While they were waiting for the Java game to finish, Tim, Marty, and Ron played the pattern-matching card game Set. Nobody did embarrassingly badly, and there was no clear winner; Marty and Tim tied for first, and Ron came in second (or third if you like).

Marty:  8 sets
Tim:    8 sets
Ron     6 sets

---
Schotten-Totten
Can you believe it? Even after Chinatown and Set, the Java game was still going, so I sat out and watched Tim and Marty play a game of Schotten-Totten. I haven't described this game in an existing newsletter yet, so I shall. Players are the inhabitants of two neighbouring Scottish towns, North Scottenbury and South Scottenbury, fighting over how to place the boundary stones marking the border of their towns. The object is be the first to gain control of either three stones in a row, or five total. Each player attempts to control stones by taking turns placing individual cards on her side of a stone. Cards have suits and point values, and depict individual Scotsmen. The best group of Scotsmen (essentially, the best poker hand) played to a stone wins it. There are many subtleties to this brilliant little Reiner Knizia game, but those are the basics.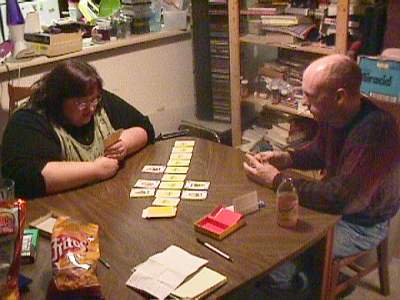 A row of cards? No, a passel of tussling Scotsmen!
Both Tim and Marty like this game a great deal (I do too), but both agreed they were sadly out of practice. Nonetheless, Tim won the game, with three stones in a row to Marty's two separate stones.
---
Java
Of course, Karl, Chad, and Mark had split off to play Java. I haven't played this, so I don't know a lot about it, except that it is generally considered to be a thematic and mechanical sequel to Tikal, which we have played before.
Scores for Java were roughly as follows:

Karl:  115
Mark:  105
Chad    70

Karl requested another plastic lizard for his prize, and was duly awarded one.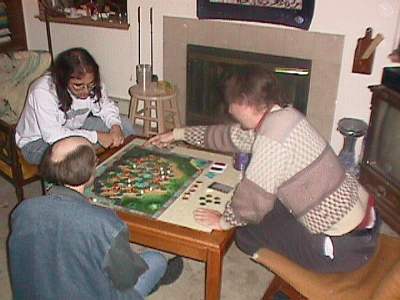 The infinite Java game
---
Snowman Meltdown
At this point, it was 11:30, the Java game had finished, and Tim and Mark left. That left Karl, Marty, Chad, and me, and I coaxed them into playtesting my new hybrid Icehouse/piecepack game, Snowman Meltdown -- the only game I know of at the moment that incorporates both game systems. It's not ready for release yet, but I will tell you it concerns a race of intelligent, snowcone-flavoured snowmen who arise from the slush of a distant comet and race around melting one another down with blow dryers. ("Don't mess with me! This thing is set on BLOW, not FLUFF!")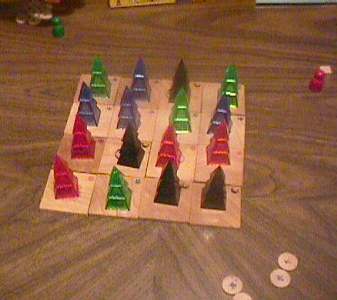 Snowman Meltdown setup, with complete snowmen on every tile
Most people seemed to have fun, but all agreed the game needed work, and Karl said he'd rather play the two-player version than the four-player one. Karl, Chad, and Marty all gave valuable playtesting feedback. Thanks, guys!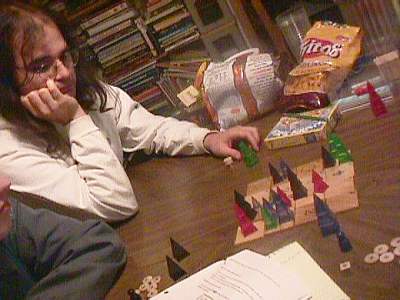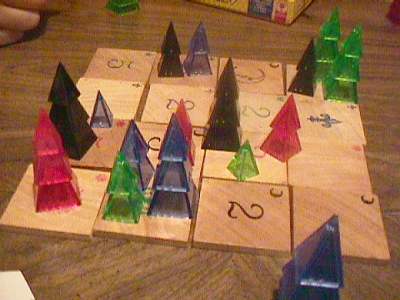 (1) Chad ponders. (2) The Snowman Meltdown midgame.
For the record, the version of the game we played was 0.2, and Marty was the victor with the Cherry Red Snowmen ("for which she won squat", she asked me to add).
Karl and Chad left at 12:45, capping off another successful Seattle Cosmic Game Night.
---
Games played or discussed this week:
The Center for Ludic Synergy and Seattle Cosmic Game Night are now associates of Funagain Games. This means that 5% of your purchase there goes toward supporting us if you buy games there via the following links or the Funagain logo at the bottom of the page.
Even if you don't want to buy the games, the Funagain pages often contain lengthy, useful game reviews.
---
NEXT MEETING:
Friday, 26 October 2001, 7:00 PM in West Seattle. Come play for fun and FABULOUS PRIZES!
Remember, Seattle Cosmic Game Night occurs every weekend, in one of three locations: West Seattle, Mill Creek, or Kent. Email Ron Hale-Evans for a full schedule. If you come, please bring a snack or drink to share (cookies, chips, soda, juice, etc.).
---

Seattle Cosmic Game Night Home | Center for Ludic Synergy home
All photos on this page copyright © 2001 by Ron Hale-Evans except where otherwise noted.
Maintainer: Ron Hale-Evans, rwhe@ludism.org
Page last updated 2001-10-21.