Embroidered Piecepack Gear
While creating the PiecepackTrophyCloth for the piecepack game design contests, it actually proved more cost effective during the digitisation (conversion from computer graphics to an embroidery stitch pattern) to digitise the whole piecepack logo as seen in the image below, and then separate and magnify each suit icon for the Trophy Cloth, than to digitise each icon separately.

The upshot of this is good news for everyone. West Coast Awards and Athletics, the company that did the embroidery, now has the embroidery pattern for the graphic above on file. I have instructed them to allow anyone who contacts them to buy gear embroidered with the piecepack logo from them at their regular prices (that is, there is no middleman; for example, Marty_Hale-Evans? and I are not profiting from anything West Coast Awards sells you).
I myself ordered a nice stone-coloured baseball-style cap embroidered with the piecepack logo for about $11.00. (The embroidery of the cap-sized version of the logo cost about $6.00, while the cap itself cost $4.50.) Turnaround from placing to receiving the order was less than a week. Here are some photos of my hat (which is catalog number CP-81, by the way, and comes in several other colours):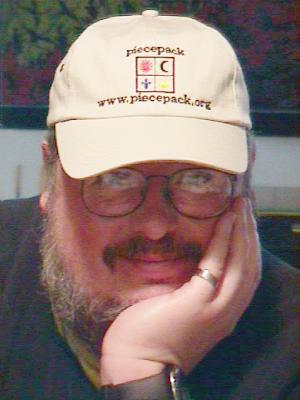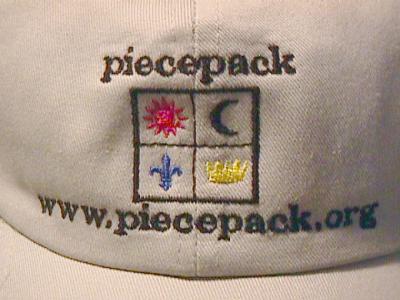 (1) Ron pretends to be a catalog model.
(2) Close-up of embroidery on hat.
(The embroidery on shirts and jackets is larger and correspondingly finer.)
Besides baseball hats, West Coast Awards can embroider winter ski caps, T-shirts, piquet polo shirts, jackets of many descriptions, duffel bags, and more. If you're a big fat guy like me, you'll appreciate knowing that some of their shirts and jackets go up to 6XL. In fact, they'll embroider darn near anything you send them that can be embroidered, as witness the PiecepackTrophyCloth itself, which started as a tablecloth we bought at Bed, Bath & Beyond.
From what I have seen, their prices are very reasonable, and discounts for orders in quantity are the norm. This raises two possibilities: (1) group orders by the piecepack community to save money, and (2) entrepreneurial purchase of piecepack gear in quantity, then reselling at a profit. It's kind of like free / open source software that way -- or like the piecepack itself.
The contact information for West Coast Awards is below. Unfortunately, they don't show catalog items on their website, but you can get a big paper catalog from them just by asking. You'll want to ask for the latest Apparel Catalog, which includes bags, etc. as well as clothing, but does not include non-embroiderable items such as flashlights and ballpoints.
West Coast Awards
515 East Smith
Kent, WA 98031
Tel: (253) 854-4973
Fax: (253) 850-1521
westcoastawards@hotmail.com
http://www.westcoastawards.com/
Seattle Cosmic members can see my gear in person, and get free catalogs from me. Since I live close to West Coast Awards, I can continue to pick up free catalogs and bring them to game night if there is interest.
Share and Enjoy! And if you do order something, mentally thank Mike Schoessow, David Hassell, and Tim Schutz, who helped us fund the Trophy Cloth, and thus the logo embroidery as a side effect.
--Ron_Hale-Evans?