Seattle Cosmic Game Night, Saturday, 7 February 2004
Michelle and Steve Observe Birthdays; Seattle Cosmic Observes Their Observation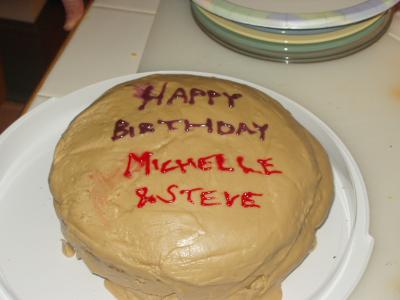 Cake!!!
Seattle Cosmic Game Night met again on 7 February at the house of David_Adams? and Kathy_Kizer? in Tukwila. Present in rough order of appearance were David_Adams?, Marty_Hale-Evans?, Noel_Wade?, New Guy Chris_Wirfs? (these four showed up early to play Age_of_Renaissance? for a LongGameDay); Alex_Rockwell?, AlphaTim Schutz, Alex_Duncan?, Kathy Kizer, Ron_Hale-Evans? (yours truly, who showed up around 6:05 PM), Alex_Swavely?; Ben_Sklar?; Mark_Purtill?; Steve_Dupree?, Nat_Dupree?, Jay_Lorch?, and Michelle_Teague? (Steve and Michelle were celebrating birthdays); Eric_Yarnell,_ND? and Meryl_Douglas?; and Mark_Haggerty? and a friend who asked not to be named on the wiki. (Eric refers to her as "anonymous", but I shall call her "Pleistocene", because her real name sounds like a geological era and she played Barbarossa, which involves plasticine.) I count 20 people, a typical recent Seattle Cosmic turnout.
New Guy Chris Wirfs is an interesting fellow. Alex Swavely recognised him as playing tournament Chess at The Exit back when that Seattle institution was still around (before my time!). Chris said at one point he had a Chess rating of 1950, and coached a public school Chess team to the state championships. He now plays Go online, with a rating of 8 kyu. It was revealed during Age_of_Renaissance? that he grew up playing Advanced_Squad_Leader? for his whole family. As far as I'm concerned, he's welcome back at Seattle Cosmic any time -- but he's not allowed to play with me. :)
There was plenty of snackage, including birthday cake, and Dave and Kathy bought and baked a number of pizzas for the Cosmologists, including a vegetarian one.
--Ron_Hale-Evans?
Age of Renaissance
Game: Age_of_Renaissance?
Players: Dave Adams, Marty Hale-Evans, Noel Wade, Chris Wirfs
Location: Dining Room
Time: 12:30-6:00 PM
Winner: Marty Hale-Evans
Prize: ?

Yesterday I taught AoR? to Marty and Chris. Noel already knew how to play and Chris had just read the rules. Marty as Venice dominated as soon as Noel as Barcelona had to leave, thus throwing Paris a bone, but since Chris as Genoa had yet to even build a Galley 2 was just fighting with Paris over the Andalusian scraps. Venice proceded to own the entire Black Sea and even got the Crusades again (Barcelona jumped out to an early lead with it). We bowed to Marty's masterful play in the middle of Epoch 2, around 5:30 as others were starting to arrive to play other games.
--David_Adams?
Industrial Waste
Game: Industrial_Waste?
Location: Dining room
Time: 5:45-6:45 PM
Winner: Alex Rockwell
Prize: squirt gun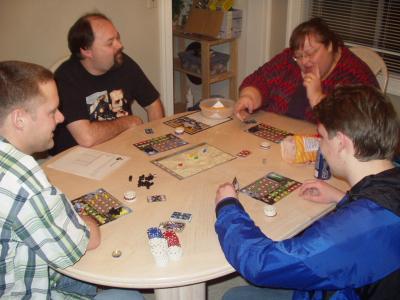 Marty explains she doesn't like posed photos
Scores
| | |
| --- | --- |
| PLAYER | SCORE |
| Alex Rockwell | 45 |
| Marty Hale-Evans | 41 |
| Chris Wirfs | 39 |
| Dave Adams | 38 |
This was the first time Chris had played (it says here).
--Ron_Hale-Evans?
Octiles (x2)
Game: Octiles?
Location: Fiesta Room
Time: 6:30-7:00, 7:00-7:35
Winner: Alex Duncan (both games)
Prize: Jyhad deck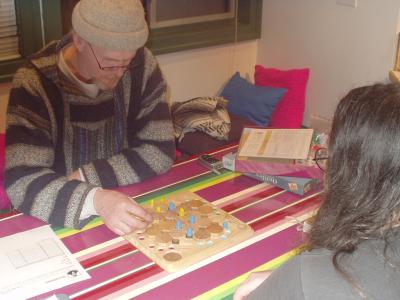 Och, tiles! Left: AlphaTim; right: Alex Duncan
Scores, Game 1
| | |
| --- | --- |
| PLAYER | SCORE |
| Alex Duncan | 5 |
| Tim Schutz | 2 |
Scores, Game 2
| | |
| --- | --- |
| PLAYER | SCORE |
| Alex Duncan | 5 |
| Tim Schutz | 4 |
| Alex Swavely | 4 |
Another two plays of the Games 100 winner that debuted in our group at SeattleCosmicGameNight20040110.
--Ron_Hale-Evans?
Terra
Game: Terra?
Location: Living Room
Time: 7PM-8:15ish
Winner: EVERYONE LOST.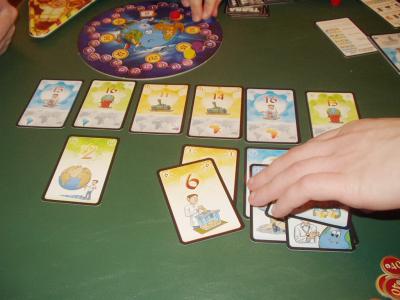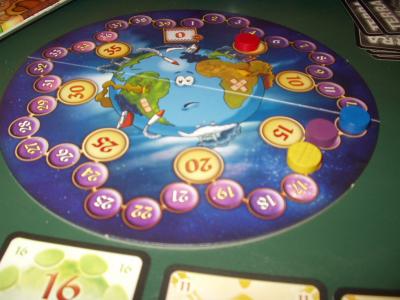 1. The world is on the brink of destruction, with six out of the allowed seven crises.
2. Our beleaguered planet.
Scores, in alphabetical order:
| | | |
| --- | --- | --- |
| PLAYER | COLOUR | SCORE |
| Ron Hale-Evans | yellow | 16 on board, 0 hoarded |
| Jay Lorch | red | 5 on board, 27 hoarded |
| Mark Purtill | purple | 19 on board, 15 hoarded |
| Alex Rockwell | blue | 13 on board, 30 hoarded |
Like most games, the winner of Terra is the person with the most victory points at the end, and various actions during the game score victory points. Some of these point-scoring actions help everyone, namely playing "solution" cards to get rid of "crisis" cards representing devastating conditions somewhere on earth. But, some of these actions help only yourself, removing solution cards from the game to put points in your pocket alone. You must be careful with the latter, since if enough crises happen and don't get solved, the earth collapses and everyone loses, regardless of score.
It took us a little while to get used to the way the game plays out, and although we put up a valiant effort we all were overcome with crises at the end and lost. We would probably do "better" in a subsequent attempt.
I like the central mechanism of this game, described above. However, I believe the game suffers from a critical flaw which makes me rather unwilling to play it again. The key to all your victory points comes in drawing solution cards, which range from 1 to 6. The higher-numbered cards are vastly better than the lower-numbered cards, so your score in the game will be highly dependent on the cards you draw. Hopefully someone will come out with a game that better leverages this concept of the "partly cooperative, partly competitive" game.
--Jay_Lorch?
I read about Terra? a few months ago, and my interest was heightened the week before game night when I read the in February 2004 letter column of The Games Journal that the game had been released. The game's publisher noted,
Terra is unlike anything else we've done here at Days of Wonder. The game was developed in partnership with UNESCO, the Barcelona Forum, and Holos\x97a non-profit organization to which we've pledged to donate 20% of our gross profit on the sales of the game)...
If you are too helpful in saving the world you will undoubtedly lose to someone else. Yet if you don't help enough, everyone will probably lose. As you've no doubt figured out by now, if you play with a win-at-any-cost, Alpha-Gamer, no one will win. Ever... With the single exception of a group of young, fun-loving kids, no group of first time players has won the game the first time through.
It's interesting to me how this game does (and doesn't) bring out the role-player in people. Consider Jay. He refuses to play piecepack games; as he said while we were setting up, "I admit it, I like nice bits." Why is this? I put it to you that people who prefer themed games to abstract ones usually like them because themed games allow them to do a bit of role-playing. Presumably Jay wouldn't have played wiki:Piecepack:Chariots with us the week before (SeattleCosmicGameNight20040131) because the pieces were plain wood and didn't "really" depict cobblestones and chariots in a Roman arena. Yet when given a chance to roleplay in a powerful way, Jay and Alex ignored it and behaved extremely aggressively. (At least I think they weren't roleplaying; I would hate to think the way they behaved in the game reflected their actual politics.)
Bruno Faidutti, the designer, reports,
Many players suggested, via email, the very same variant... The rule is simple. If the world explodes (7 full-blown crises, 3 in one Continent, etc.), the player with the lowest set total (value of the cards set aside during the game) wins, or the player with no sets win. If there is a tie, the player with the lowest total of cards in his hand wins.
Although we didn't play with this variant, this is what the rankings for the game would have been if we had:
Scores, in ascending order of points hoarded:
| | | |
| --- | --- | --- |
| PLAYER | COLOUR | SCORE |
| Ron Hale-Evans | yellow | 16 on board, 0 hoarded |
| Mark Purtill | purple | 19 on board, 15 hoarded |
| Jay Lorch | red | 5 on board, 27 hoarded |
| Alex Rockwell | blue | 13 on board, 30 hoarded |
It seems somewhat disingenuous for Jay to say that the luck of the draw was against him. If you look in the left-hand photo above, you'll see that toward the end of the game, we had two Crises in each colour, so it's not as if there was no opportunity to play blue cards, for example; there was ample opportunity to play any card in your hand on a Crisis in progress. Since the Crisis cards range in value from 10 to 16, all else being equal, the 57 points of cards that Alex and Jay hoarded could have resolved anywhere from three to five of the seven Crises on the board that destroyed the world in our game (or more, considering there were already some Solution cards on some of the Crises). Jay and Alex played very aggressively. Mark told me he only set aside a few cards (none higher than 3 points) that were "mostly useless". His hand was constantly empty, as was mine; on the other hand, Jay and Alex frequently had full hands. No, I put it to you, the Seattle Cosmic jury, that Jay and Alex simply didn't "get" this game.
Alex objected that had we played with the "if the world ends, the person who hoards least wins" variant, the game would have devolved into a race to empty your hand and destroy the world. I'm not sure if this is true; if people are emptying their hands, they'll probably end up competing to solve Impending Crises before they become full-blown Crises. That's how I ended up with 16 points on the board and Mark ended up with 19. On the other hand, it might be fun to try the variant on this variant suggested by Greg Aleknevicus in the letters column:
Everyone donates a few dollars at the start of the game. If anyone wins then all players take back their money. If no one wins then the money is burnt. (In the case of Terra I would suggest that donating the money to charity would be an even better alternative.)
This may give certain players enough incentive to prevent them from "destroying the world" once they believe that they can no longer win.
Anyone want to try this variant (which incorporates the "person who hoards least wins" rule) at Seattle Cosmic? All players could put $10 or so in the pot toward GamesToTheRescue. Jay was the only Terra player who said he would not play again. Alex said he definitely would, and Mark said he might. I'm all for it; this is one of the most interesting games I have played recently.
Other notes: Crisis cards in Terra are interesting; they effectively have two suits (region of the world and type of problem) and one value (10-16). Solutions only have one suit (type of problem) and a value; they can be played anywhere in the world.
We opted for minimal table talk, although this seems a bit odd in a cooperative game. The consensus seemed to be that at least we wouldn't discuss the contents of our hands (as is the rule in Knizia's Lord_of_the_Rings?). This led to some odd comments when people didn't have the right cards in their hands, or claimed not to, e.g. "I choose not to solve this problem of world hunger." :)
There was an ambiguity in the rules, which state, "The player who was the first to play a Solution card on the [impending] crisis scores 3 points... The player(s) who played the Solution card with the highest value(s) on this crisis also scores 3 points. If the first Solution card played turns out to be the highest, its player scores 6 (3+3) points." The question arose of what to do in case of tied high cards. We ruled that the earlier high card gets the 3 points, but rereading this rule ("The player(s) who played the Solution card with the highest value(s) on this crisis also scores 3 points"), I think the use of "player(s)" and "value(s)" implies that all players who tie for high card receive 3 points, and I would prefer to play this way in the future. This rule could have been written more clearly and explicitly, however.
--Ron_Hale-Evans?
True, I could have averted several impending crises near the end of the game. However, by that point, there was no rational reason to do so. Since I never drew a 6, and drew one 5 the entire game and only toward the end of it, I had no cards in my hand that could completely solve any crisis. I only had cards that could nearly solve it and allow a subsequent player to score 5 points by completely solving it. Now, if I had been in a better position point-wise from having drawn better cards early, it might have been good to let someone else score 5 points to keep the game from ending in a shared loss. However, by my estimation, I was clearly not in first place, and I certainly wouldn't go into first place by allowing others to score extra 5-point packets, so there was no reason to play cooperatively at the end of the game.
In short, it doesn't seem reasonable to evaluate my play the entire game just by looking at the endgame. By the endgame, I was so far behind that only extremely selfish behavior could win, and therefore I played extremely selfishly at the end. But that doesn't mean that's how I played throughout.
--Jay_Lorch?
Industria (x2)
Game: Industria?
Location: Dining Room (Game 1), Living Room (Game 2)
Time: 7:00-8:20 PM (Game 1)
Winner: Marty Hale-Evans (Game 1), Kathy Kizer (Game 2)
Prize: ?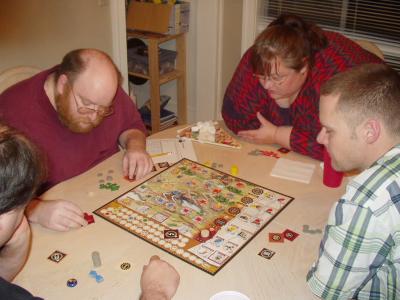 The last auction of Game 1. L to R: Dave, Ben, Marty, Chris.
Scores
| | |
| --- | --- |
| PLAYER | SCORE |
| Marty Hale-Evans | 39 |
| Dave Adams | 38 |
| Chris Wirfs | 38 |
| Ben Sklar | 24 |
Scores
| | |
| --- | --- |
| PLAYER | SCORE |
| Kathy Kizer | 42 |
| Michelle Teague | 40 |
| Nat Dupree | 38 |
| Steve Dupree | 24 |
In the second game, all players passed on the very first tile of my very first auction turn, even though it was the reasonably valuable Segework (sawmill), so I was pretty much out of it from the beginning. Then, because my original plan was to keep the Steinbruch (stone quarry) for myself, so I bid on it when it came around, which was silly considering that I was already broke. The winning strategy was a Bank-Borse + lots of buildings strategy, which Kathy played quite well, especially for her first time playing the game.
--Steve_Dupree?
Barbarossa
Game: Barbarossa
Players: Mark Haggerty, Pleistocene, Eric Yarnell, Meryl Douglas
Location: Office
Time: 7:35-8:35 PM
Winner: Meryl Douglas
Prize: ?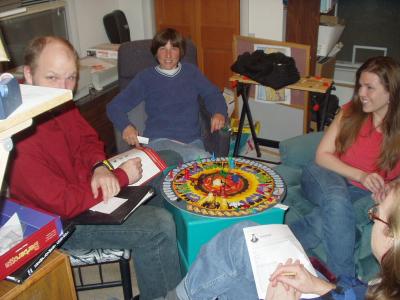 Mark gives the camera a come-hither look over a bookshelf. L to R: Mark, Meryl, Pleistocene (a.k.a. anonymous), Eric.
Meryl and Eric arrived at just the wrong moment--everyone else had just started new games. Eric sat around a while reading the rules for Inkognito the card game while Meryl check out the various tables. Eventually, Mark and anonymous arrived, and we all agreed to play Barbarossa, at least until other games opened up. It took quite a while to read the rules and for everyone to pay attention long enough to move the game forward. Many silly mistakes were made. Clay riddles created and guessed correctly were Mark's tadpole and something else I forget, Meryl's worm and bathtub, anonymous's rooster (no one guessed her pea), and Eric's ghost (no one guessed my red blood cell). It was fine but I think we were all distracted.
--Eric_Yarnell,_ND?
Squint (#1)
Game: Squint?
Location: Dining Room
Time: 8:25-8:55 PM
Winner: Marty Hale-Evans
Prize: ?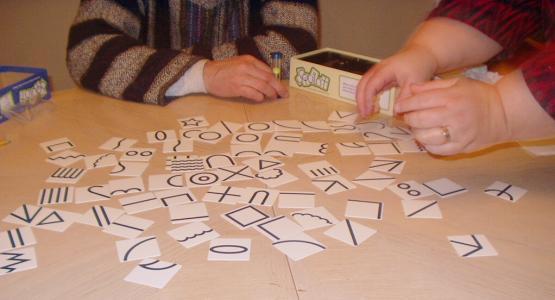 The Squint game components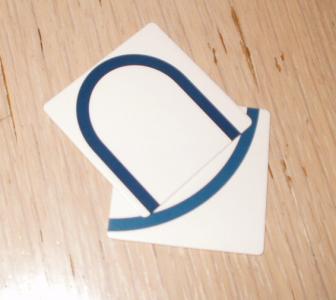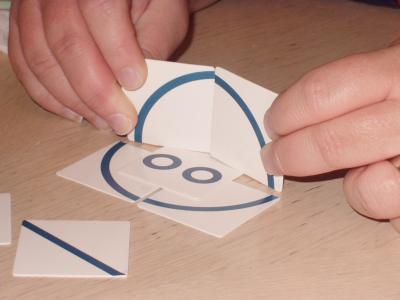 1. "Cowboy" by Alex Duncan. (Can you believe "cowboy" was a three-pointer?)
2. "Pearls" by Marty Hale-Evans. (Animation of oyster not shown.)
Scores
| | |
| --- | --- |
| PLAYER | SCORE |
| Marty Hale-Evans | 7 |
| Alex Duncan | 6 |
| Tim Schutz | 4 |
| Ron Hale-Evans | 3 |
| Meryl Douglas | 2 |
--Ron_Hale-Evans?
Puerto Rico
Game: Puerto_Rico?
Location: Living Room
Time: 8:30ish-9:50 PM
Winner: Ben Sklar
Prize: ?

Scores
| | |
| --- | --- |
| PLAYER | SCORE |
| Ben Sklar | 37 |
| Chris Wirfs | 36 |
| Dave Adams | 35 |
| Mark Purtill | 33 |
| Jay Lorch | 32 |
I would like to point out that I came in last place at this game. This is not an uncommon occurrence with me. I'm not sure where everyone came up with the notion that I automatically win this game whenever I play a game without Alex in it. So, please, don't hesitate to play with me in the future.
I enjoyed this game a lot, and learned a lot from my mistakes. I should have noticed that, with two hospices bought, the game would likely end soon due to lack of colonists, so large buildings were better buys than the harbor and wharf. Also, at one point, I chose Settler/quarry instead of Prospector, thinking that the one coin from Prospector was small compared to the two or more savings I'd get from the quarry. However, this was a mistake as it left me one doubloon shy in the next builder phase from the building I needed to build. Finally, I once again made the mistake of making too extreme and early a shift from trading to shipping in the mid-game. I had an advantage in income ability but stopped looking for ways to earn money sinceI was totally focussed on shipping to the exclusion of all else.
--Jay_Lorch?
It is true that one of my proudest game night moments was sometime way back in 2003 when I actually beat Jay at Puerto Rico. So yes, it can happen. Now I am futilely trying to one day beat Jay at Tigris and Euphrates (see comments below). I'm not holding my breath.
Honestly, Jay is THE best explainer of rules to games I have ever met. And I think he is one of the best people ever to play games with I have met--he is not egotistical, he is happy to share his logic with you (sometimes after the game is over if such sharing would completely ruin his position), he is always happy to explain things calmly and rationally. And though I've been avoiding Puerto Rico because of several reasons, it is certainly not because of Jay.
And by the way Jay, you tend to win at everything you play, not just Puerto Rico. Take pride!
--Eric_Yarnell,_ND?
Industria (#3)
Game: Industria?
Location: ?
Time: ?
Winner: Nat Dupree
Prize: ?

Scores
| | |
| --- | --- |
| PLAYER | SCORE |
| Nat Dupree | 56 |
| Steve Dupree | 52 |
| Dave Adams | 15 |
This was the first game in our group played with the correct rules for 3 players. It worked pretty well. I don't know (or at least don't remember) what poor Dave did wrong, but it was only his second game and this is one of those games where experience counts for a lot.
--Steve_Dupree?
Inklings
Game: Inklings?
Location: Dining Room
Time: 9:45-10:30 PM
Winner: ?
Prize: ?

Scores
| | |
| --- | --- |
| PLAYER | SCORE |
| Team 1: Kathy Kizer, Meryl Douglas, Jay Lorch | 72 |
| Team 2: Marty Hale-Evans, Eric Yarnell, Michelle Teague | 71 |
This was a remarkably close game. My favorite clue was "$" in the category "home-grown vegetables", written by Meryl and solved by Marty just in time for her team to steal it. I leave it to the reader to figure this one out.
--Jay_Lorch?
That was a great one, though I honestly didn't get it. I learned a lot from Jay's use of skipped letters to keep his clues as short as possible and thus enhance the score. I never would have thought to do that on my own. The teams were remarkably well balanced.
--Eric_Yarnell,_ND?
Squint (#2)
Game: Squint?
Location: Dining Room
Time: 10:35-11ish
Winner: Marty Hale-Evans
Prize: ?

Scores
| | |
| --- | --- |
| PLAYER | SCORE |
| Marty Hale-Evans | 13 |
| Meryl Douglas | 11 |
| Jay Lorch | 11 |
| Eric Yarnell | 10 |
| Michelle Teague | 9 |
| Kathy Kizer | 6 |
"You just don't realize how many words involve a cow." --Jay Lorch
As expected, this game was a lot of fun, and easily won by the Queen of Squint.
--Jay_Lorch?
I really enjoyed this game. I like it better than Pictionary because everyone gets to guess every time. Additionally, I think the mechanism of creating the clues is hilarious and clever.
--Eric_Yarnell,_ND?
Runaway Train
Game: Runaway_Train?
Location: Dining room
Time: 9:00-9:20ish
Winner: ?
Prize: ?

Scores
| | |
| --- | --- |
| PLAYER | SCORE |
| Michelle Teague | 40 |
| AlphaTim Schutz | 17 |
| Marty Hale-Evans | 15 |
| Kathy Kizer | 0 |
| Nat Dupree | approx. -4 |
See SeattleCosmicGameNight20040110 for more on one of AlphaTim's latest games.
--Ron_Hale-Evans?
Cryptografix
Game: Cryptografix? version 0.5 (piecepack game)
Location: Living room
Time: 10-11 PM
Winner: Chris Wirfs
Prize: Little brain guy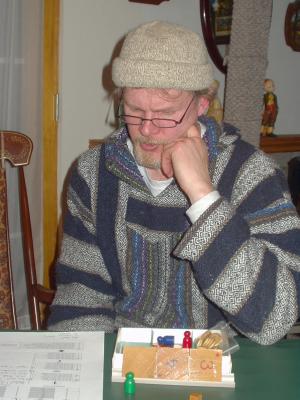 AlphaTim wonders what the tiles right in front of him are
Scores
| | |
| --- | --- |
| PLAYER | SCORE |
| Chris Wirfs | WINNER |
| Ron Hale-Evans | not even close |
| Tim Schutz | not even close |
Cryptografix is an adaptation by Tim Farley of the game Code 777 by Robert Abbott and Alex Randolph to the piecepack. It can be found at present in the piecepack mailing list Files directory. Just as in Code 777, players receive three tiles with various values or numbers on them in various suits or colours, and must deduce what their own tiles (which they cannot see) are from the answers the other players give to various questions picked at random. In Code 777, the questions are printed on cards drawn from a deck, but in Cryptografix, they are printed on a chart and selected by die roll.
The Cryptografix rules, which were at version 0.5, were a little vague. We had to make rulings on a few ambiguous questions:
Once the players select their tiles, they set the other tiles aside unseen.
You can only guess what your tiles are on your turn.
To speed things up, you can't guess on two of your own turns in a row.
Once you guess, you must then roll and answer a question.
The rules about how many times you can roll a given die in a row are completely ambiguous, so we did the best we could. I forget now how we interpreted those rules. They need clarification.
I was the first player to guess. I guessed on my fourth turn. As it turned out, I had guessed one of my tiles correctly, and I kept guessing that tile correctly, but every other tiles I guessed was wrong. By my eighth turn, I was thoroughly confused, but Chris was confident. It is crucial in games of deduction to keep scrupulous notes. I had used the letter 'A' to represent both the suit of Arms and the value Ace, and it just went downhill from there. Chris kept excellent notes, however (I got to see them later), and Chris won the game somewhere around round 24.
Dave Adams had loaned us some plastic racks similar to those used for Scrabble? tiles from some game he could no longer remember. They worked well for holding the tiles.
I had long wanted to play Code 777, which sells for high prices on eBay when you can find it at all. Cryptografix was a nice way for me to have a similar ludic experience. I don't know how much time Tim Farley will have to react to feedback, however, as he is currently stationed in Iraq with the US military. I hope he will continue to adapt GermanStyleGame``s to the piecepack, though; he has also adapted Ricochet_Robot? in a game called Four Blind Mice.
One more bit of feedback for Tim F: placing the game into the public domain while also placing restrictions on its redistribution ("You may redistribute this game freely, so long as you credit both the adaptation author and the original concept designers") is a contradiction in terms. Either it's in the public domain, in which case anyone may do anything they like with it, or else it's not in the public domain, but copyrighted or restricted in some other way. Piecepack authors usually use this wiki:Piecepack:FdlLicenseBoilerplate to get around these issues.
--Ron_Hale-Evans?
Wizard's Garden
Game: Wizard's_Garden?
Players: AlphaTim Schutz, Chris_Wirfs?
Location: Living room
Time: 11:00 PM - 11:30ish
Winner: Chris Wirfs
Prize: ?

Scores
| | |
| --- | --- |
| PLAYER | SCORE |
| Chris Wirfs | 5 |
| AlphaTim Schutz | 4 |
The rules to this original game by AlphaTim, played on a 4x4 board with Reversi pieces, are available online. Wizard's Garden was an entry in the 2004 Shared Pieces Game Design Competition. Cross your fingers.
Chris beat Tim at his own game. Tim claims he's just rusty. ;)
--Ron_Hale-Evans?
Tigris & Euphrates
Game: Tigris_&_Euphrates?
Players: Michelle Teague, Eric_Yarnell,_ND?, Alex Duncan, and Jay Lorch
Location: Fiesta Room
Time: 11:35 pm - 12:55 am
Winner: Michelle Teague
Prize: None awarded

Scores
| | |
| --- | --- |
| PLAYER | SCORE |
| Michelle Teague | 8 |
| Jay Lorch | 7 |
| Alex Duncan | 6 |
| Eric Yarnell | 4 |
Eric tried a very aggressive strategy, and the lucky recipient of this aggression was yours truly, Jay Lorch. When I say "lucky", I am only partly kidding, because fighting in this game is generally advantageous to both attacker and attackee. War provides a more efficient source of points than normal play, so as long as you're not too wiped out after the attack you're generally better off. I was a little more wiped out than I'd have rather been, and Eric far more I'm sure than *he* would have, so we were both beaten by Michelle. She pursued a strategy of building up a large kingdom without conflict until the end, when her large kingdom made her largely unassailable and able to attack our fledgling kingdoms with little chance of loss.
Incidentally, I was so out-of-practice from not having played in months that a couple of times I didn't realize the full consequences of ordering battles during an external conflict. Alas, this is something of a critical element in Tigris & Euphrates.
--Jay_Lorch?
I had previously heard someone say that fighting is a good thing in this game. I didn't really fully want to fight with Jay but it seemed like a reasonably good place for me to start based on our board positions. Unfortunately, I am very bad at figuring out who is going to win a battle, and more than once foolishly assumed that Jay (and a couple of times Michelle) wouldn't have any of a particular color in their hand, and when I was wrong, lost badly. Oops. It was also late and I think we were all rather bleary eyed. Oh well, I still think this is an intriguing game, and I do hope to get better. Some day I will beat Jay, and then maybe Michelle. Regardless, I'll have fun playing.
--Eric_Yarnell,_ND?
Zendo
Game: Zendo
Players: Mark_Haggerty?, Alex_Rockwell?, Eric_Yarnell,_ND?, anonymous, Steve_Dupree?, Meryl_Douglas?
Location: fiesta room
Time: 20:20 h till at least an hour later
Winner: Winning does not have the Buddha nature, but anonymous and then Mark correctly surmised koans while I was playing
Prize: none taken

Scores
| | |
| --- | --- |
| PLAYER | SCORE |
| Round 1 | anonymous guessed correctly |
| Round 2 | Mark guessed correctly |
| Round 3 | someone else write this down, I wasn't there |
Round one, Alex as master, and his crafty koan was 'must include a red OR a medium pyramid.' I felt like a nitwit as I usually do playing this devilishly clver game, and the only thing I felt I contributed the whole time was creating a possible koan that made it clear color was a factor. It took a long time for anyone to realize this was a two part koan, which when noted Alex confirmed it as a hint. Steve jumped into the game part way through with what seemed a sure winner--if a small pyramid is present, red must also be present. But alas, this was not correct. Eventually the total newbie who had complained that she wasn't any good at this figured it out! Go figure.
Round two, anonymous was master, and her crafty koan was 'blue must be stacked on top, and anything other than black on the bottom.' This was easy? My mind utterly boggled and I never had a clue. Yet within three rounds Mark had figured it out (Meryl actually was the one who finally guessed it, but only because we were in Stage 2 Zendo when everyone was cooperating openly and Mark stated what he thought it was and Meryl said it exactly). Some wrong guesses: Mark--blue and clear pyramids must be present; Alex--must contains a 2-high stack and a blue pyramid (warmer), Mark--blue on top of white or clear (much warmer), Meryl--has a stack and a blue smaller than the one underneath it (much much warmer).
Then I left and someone else will have to describe other exciting adventures in Zendosity.
--Eric_Yarnell,_ND?
Starship Catan
Game: Starship_Catan?
Location: Office
Time: ?
Winner: Alex
Prize: ?

Scores
| | |
| --- | --- |
| PLAYER | SCORE |
| Alex | 10 |
| Ben | 8 |
Teaching Alex a new game was an interesting experience. Starship Catan has a lot of cards and bits to deal with although the basic concept is searching for resources and managing them well. Alex got a bit lucky with gaining Victory points via colony planets and managed to get that last VP with an Advanced module before I could gain the last two VPs I needed. I should have been counting how many VP he had.
--Ben_Sklar?
Ben obviously taught the game to Schroedinger's Alex, because I can't tell whether he played the game with Alex Duncan, Alex Rockwell, or Alex Swavely (all of whom were present), and evidently neither could Ben. :)
--Ron_Hale-Evans?
Closing
Mark Purtill left around 11pm; Marty and I left around 11pm; AlphaTim was teaching Chris Wirfs to suck eggs, I mean teaching Chris how to play Wizard's Garden as I left.
Thanks for hosting a great night of gaming, Dave and Kathy.
--Ron_Hale-Evans?
Credits
Game comments: Thanks to the whole Seattle Cosmic crew! We're getting good at collaborative newsletters.
Photos and captions: Ron Hale-Evans.
NEXT MEETING
Saturday, 14 February 2004, 5:00 PM at the house of Tim Higgins in Mill Creek (Bothell). Come play for fun and FABULOUS PRIZES from the PrizeBag!
Remember, Seattle Cosmic Game Night occurs every weekend, in one of three locations: Kent, Mill Creek, or Tukwila. Email Ron Hale-Evans for a full schedule and directions. If you come, please bring a snack or drink to share (cookies, chips, soda, juice, etc.)
Supporting Seattle Cosmic and Games to the Rescue
GamesToTheRescue is a philanthropic project of the Center for Ludic Synergy and Seattle Cosmic Game Night. The aim of the project is to provide game equipment and a book of game rules to hospitals, for use by patients and visitors. You can support GamesToTheRescue by buying games via our Funagain affiliate program, buying Seattle Cosmic Gear, and in a number of other ways. See the GamesToTheRescue page for more details.
---