Seattle Cosmic Game Night, Saturday, 30 August 2003
That First Aroma of Tacoma
Seattle Cosmic met for its first Tacoma session at the apartment of Meredith Hale and Kisa Griffin for a LongGameDay on Saturday, 30 August. Despite the title, the aroma of the apartment was perfectly lovely. Present in rough order of attendance were Kisa_Griffin?; newcomer Mori (whose last name I have forgotten and whose first name I'm not quite sure how to spell -- help me out!); David_Adams?; Nat_Dupree? and Steve_Dupree?; Michelle_Lepovic?; Ben_Sklar?; Meredith_Hale?; Marty_Hale-Evans?, Ron_Hale-Evans?, and Darlene Hale (Marty and Mer's mother), for a total of 11 people -- a fairly small game night. The gaming started officially at 10:00 AM. Mori joined Kisa around 11:00. Dave, Nat, Steve, and Michelle showed up around 2:00, and Ben followed at 2:30. Meredith got home from work around 4:00, and Marty, Darlene, and I were the last to arrive around 4:30.
This was the rare fifth Saturday in a month, so we were experimenting with locale. Mer and Kisa volunteered their Tacoma apartment, which is a long drive for many Seattle Cosmologists on the north side of Seattle, but about equidistant to our most popular location (the house of Timothy_Higgins?) for many people in Seattle proper, and actually closer than Tim's house for those of us on the south end of town. Once again this week we discussed the upcoming schedule change in the fall, and Mer and Kisa tried to make a case for meeting in Tacoma at least once in a while. The only real drawback to their location apart from driving distance is the shape of their apartment: long and narrow. This means that you have to squeeze past people at gaming tables when moving around; on the other hand, it also means the rooms are sonically isolated, which is a good thing.
Please keep the schedule change in mind as we approach the end of September. The latest proposal is an eight-week rotation among six different locations. Surely we can simplify!
By the way, because of the absence this game night of our two most loquacious commentators, Jay_Lorch? and Alex_Rockwell?, I hope people will jump in to make up the difference, especially for the games I didn't play and don't know much about.
--Ron_Hale-Evans?
Kathy came, too, but had to leave early because her stomach ache would not go away.
--David_Adams?
Well, I'll just add a couple comments, even though I wasn't there. I was planning on coming, but when 5pm rolled around, I was still in the middle of a no-money, no-limit, Texas Holdem poker tournament I as playing in online...
--Alex_Rockwell?
See Miscellaneous Comments below for Alex's tale of his 1337 Poker? skills and the great site he found.
--Ron_Hale-Evans?
Not exactly leet, but getting better. ;)
--Alex_Rockwell?
Dragon's Gold
Game: Dragon's_Gold?
Location: Living room
Time: 2:00ish-4:00ish?
Winner: Steve Dupree
Prize: Jyhad? cards

Five of the early arrivals played a game of that chaotic Faidutti favourite, Dragon's_Gold?. Steve Dupree was the big winner, and selected as his prize a starter deck of the CCG Jyhad? donated to the PrizeBag by Kisa.
Scores
| | |
| --- | --- |
| PLAYER | SCORE |
| Steve Dupree | 62 (with Black Pearl) |
| Kisa Griffin | 49 |
| Michelle Lepovic | 40 |
| Nat Dupree | 33 |
| Mori | 21 |
Comments from the players?
--Ron_Hale-Evans?
In games with gold and gems with various scoring powers, it is somewhat commen to overvalue gems and undervalue gold. I do this myself usually, in this game and in Emerald. I was lucky in that I got the black pearly early enough that I could focus on gold and not gems for the rest of the game. Also I was one of the few players who got to trade during both the market phases, getting more gold/silver and dumping my gems to other players.
--Steve_Dupree?
Duel of Ages (demo)
Game: Duel_of_Ages? (demonstration game)
Location: Dining room
Time: 4:00ish-5:00ish?

Kisa gave a brief demo of the game Duel_of_Ages?, which has been getting a lot of play in our group lately. I wish I had been there; I would like to wade into this one at the shallow end...
Comments from the players?
--Ron_Hale-Evans?
Mer played with us a little, too. I got a small taste of it, but still don't want to play against Alex...
--David_Adams?
Castle of Magic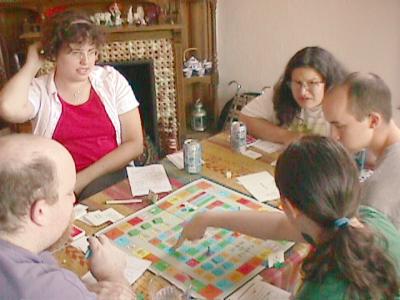 Nat 'splains; Mori and Michelle seem dismayed -- are their plans cursed?
Game: Castle_of_Magic? with Castle_Cursed? expansion
Location: Living room
Time: 4:00ish-7:00 PM
Winner: Nat Dupree
Prize: Jyhad? cards

For the second time in a few weeks, Michelle Lepovic brought her copy of Castle_of_Magic?. Considering how popular it is at our game night, this 1991 game has received surprisingly little buzz. Although it seems to take a long time, I would like to play it soon myself. The game seems to be a combination of Clue?-like deduction and, er, Diplomacy-like diplomacy: players try to enact combinations of secret goals while deducing the goals of the other players. They may ally to share information or bring about mutual sub-goals.
Nat was the big winner this week and chose a deck of Jyhad? cards to accompany the deck that her husband Steve had won for Dragon's_Gold?.
Scores
| | | |
| --- | --- | --- |
| PLAYER | ROLE | SCORE |
| Nat Dupree | Duke Horic | 12,000 |
| Ben Sklar | Earl Forsyth | -6,000 |
| Mori | Arkin of Slith | -6,000 |
| Michelle Lepovic | Seballa | -10,000 |
| Steve Dupree | Dorian Fleetfoot | -12,000 |
Comments from the players?
--Ron_Hale-Evans?
Nat ensured her win by locking both the book and the candle. At that point, wether the bell rang or not she was the likely winner. If the bell was ringing when the game ended, everyone died and Nat got bonus point because she was a vampire who thrived on the suffering of others. If the bell was silenced, the holder of the crown (her, by a large margin) got to curse the country of her choice, so she could curse a country she got bonus points for. Ironically, the country she would curse was the country that was -10,000 points for me if it was cursed, and death was also -10,000 points, so by locking in her own win she locked me into last place. :)
Michelle lobbied hard for me to let her have all the amulet points so she could rule Kida, and in return she would help me get scepter points to rule Sorrel. Either way was the same number of points for me, but avoiding competition would be beneficial. However I also knew from a Secret card I had seen that she did not want a Beast to rule Kida, so she probably got more points. Halfway through the game she could no longer help me get scepter points, and Mori was starting to kick my butt in the scepter competition, so I abandoned the deal and focused on Amulet points again. Of course, like I said at this point Nat had already locked me into losing the game so it was all a moot point.
--Steve_Dupree?
I really wanted to play this one again, but alas, I didnt make it to game night. Good to see some huge negative scores that were worse than the one I had last time. (Well one of them was worse, at leasr). Now I dont feel quite so bad. ;)
--Alex_Rockwell?
I'm glad my score makes you feel better. At least I accomplished something by playing. :)
-Steve_Dupree?
Canyon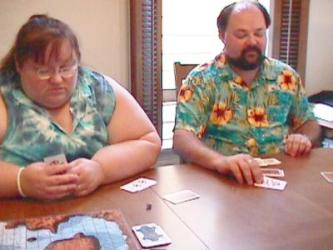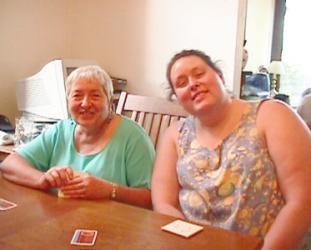 Marty and Dave are intent on playing; Darl and Mer just enjoy the company.
(I could have made this a real panoramic shot, but I was too damn lazy.)
Game: Canyon
Location: Dining room
Time: 5:15-7:05 PM
Winner: Dave Adams
Prize: Mythos? cards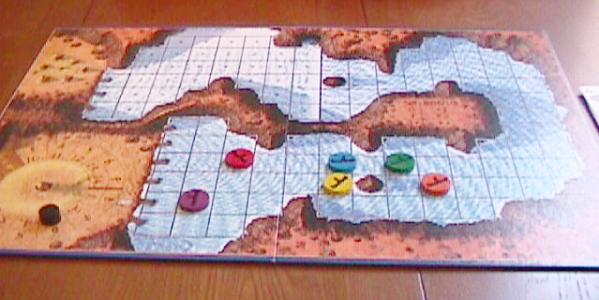 Canyon board, early in the race
The first game we late arrivals played was Canyon by Frederick Herschler. I had heard people praise this game but didn't know much about it. Kisa described it to us as "a race game powered by Oh_Hell?". That turned out to be pretty accurate. The first half of each round is a trick-taking game in which the points you make are equal to the tricks you take (apologies to the Beatles), plus a bonus if you take the exact number of tricks you bid for. In the second half of each round, players move their canoes forward on the board's river by a number of squares equal to the points they scored that turn. There is an exception to this movement rule: on the rapids (the lighter area in the upper left of the board in the photo above), you can only move a number of squares equal to your bonus that turn. If you don't take exactly the number of tricks you bid for while on the rapids, you score nothing and your canoe moves one square closer to the waterfall at the top of the board. If you plunge over the waterfall, you must restart your movement at the beginning of the rapids on the next round.
Some of us got a slow start with a score of zero on the first turn. Marty and Meredith serenaded us with "I Got Plenty Of Nothin'". (Marty exclaimed "It's not Tim's house! We can sing!") Meredith got an early lead, bidding for lots of tricks and getting them (Meredith's canoe is the orange disc in the photo). Dave Adams and I were among the slow starters (Dave was red and I was yellow). Meredith retained her lead throughout most of the the game. I got stuck at a bottleneck in the river, and the other players piled up behind me. Finally I popped out close behind Mer. Mer came very close to being able to dock at the end of the river and win the game, but then started missing her bids and scoring zero. She went over the waterfall, and for a few turns, Dave and I were literally side by side on the river, with either of us able to dock and win if we were dealt just one good hand, but neither of us able to make much headway. Finally Dave docked and won the game, with me one square behind him. Dave selected a deck of Mythos? cards donated by Kisa as his prize.
A good game. Neither the racing mechanic nor the Oh_Hell? mechanic is original in itself, but melded they form a straightforward yet compelling game.
Scores
| | |
| --- | --- |
| PLAYER | SCORE |
| Dave Adams | winner |
| Ron Hale-Evans | 2nd |
| Marty Hale-Evans | 3rd |
| Kisa Griffin | 4th |
| Meredith Hale | 5th |
Comments from the players?
--Ron_Hale-Evans?
Lunar Rails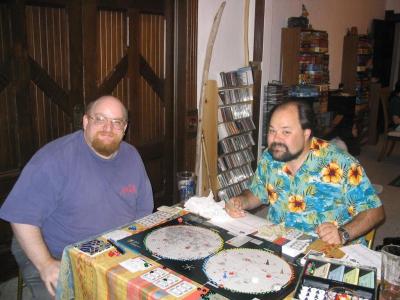 A rail game for Loonies...
Game: Lunar_Rails?
Location: Living room
Time: 7:15-11:40ish
Winner: Dave Adams
Prize: Chessboards: The Planes of Possibility, by Dave_Howell?

There was some debate as to whether Lunar_Rails? "is" or "is not really" a RailroadGame. Some people avoided it because they thought it was, while others decided to play it for the same reason. Railmeister Dave was the big, big winner here, and received a copy of the RPG supplement Chessboards by our own Dave_Howell? as his prize.
Scores
| | |
| --- | --- |
| PLAYER | SCORE |
| Dave Adams | 254 |
| Ben Sklar | 104 |
| Steve Dupree | 93 |
Comments from the players?
--Ron_Hale-Evans?
The reason for the confusion as to whether Lunar Rails is or is not a RailroadGame came from earlier in the evening, when I was holding the stack of games that I brought to gamenight, and Kisa pointed at the stack and said it was a RailroadGame. I said it wasn't. He and I were talking about two different things. I was talking about Bean Trader, hoping that Kisa could help me understand it, and Kisa was eyeing Lunar Rails with extreme suspicion.
It is a CrayonRailGame, just like most Empire Builder Mayfair games, like Empire Builder, Iron Dragon, India Rails, etc. I love these games! Lunar Rails is the newest game (just came out within the last few months) from Mayfair, and has an interesting mechanic of being able to draw rails all the way around the MOON!
With three players, I estimated the game to take less than 2 hours with experienced players (crayon rail gamers playing on a new map). It took at least 4.5 hours with Steve and Ben not familiar with either the rules, nor the map (which is obviously a futuristic setting, with demands like Helium and scientists all over the moon - and humorously, artifacts from one location on the moon... ;-) Ben seemed to have a real hard time remembering where things were on the map, and I apologize if I seemed impatient "Tycho is right there, right where is was the last two times you asked". I remember the first game I ever played of British Rails (having never played a crayon rail game before) - I had no clue where anything was, and summarily got my butt kicked. But I learned the game, and it's now one of my favorite types of games.
Why do I like the long ones?
--David_Adams?
I would have been just as slow as Ben if I had gotten to deliver as many loads as he did. With two thirds of the players having never played a crayon rail game and not having memorized the location of any major moon craters, I am not surprised that this game too so long. But I also knew that Dave will say almost anything to get someone to play a crayon rail game with him :) , I had budgeted for the time. In the end, I liked the wrap-around feature of the moon, and I would play this again some time.
--Steve_Dupree?
The Reef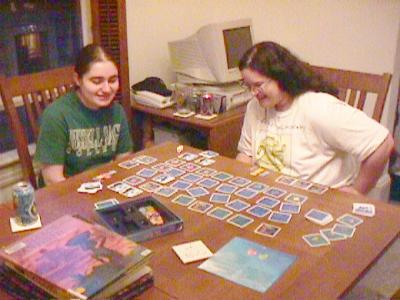 Nat and Mori snorkel The Reef
Game: The_Reef?
Location: Dining room
Time: 7:35-9:30ish
Winner: Nat Dupree
Prize: Nat donated a deck of cards to GamesToTheRescue

Don't know much about history. Don't know much about geography. Don't know much about The_Reef? except it's one of the series of square-box two-player games by Kosmos, and Nat won her game against Mori 5-4. Nat declined another Jyhad? starter deck, preferring to donate to GamesToTheRescue one of the decks of playing cards Dave Howell donated to the PrizeBag. This is always an option if there's nothing else that you want in the Prize Bag, friends.
Scores
| | |
| --- | --- |
| PLAYER | SCORE |
| Nat Dupree | 5 |
| Mori | 4 |
Comments from the players?
--Ron_Hale-Evans?
Tigris & Euphrates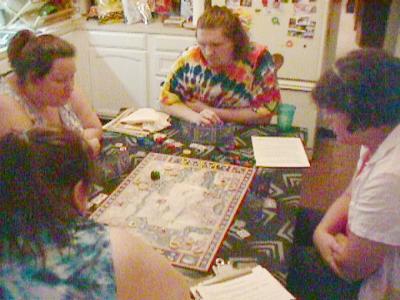 War and plunder among the cranky
Game: Tigris_&_Euphrates?
Location: Kitchen
Time: 7:45-9:10 PM
Winner: Kisa Griffin
Prize: ?

I decided to watch Kisa, Marty, Mer, and Michelle play a game of Tigris_&_Euphrates? in the kitchen. I could have been the fourth player, but I've only played one game of T&E in my life, three years ago, and was hoping to refresh my memory. Mer was grumpy, claiming that since she has moved in with Kisa, her whole life was one big game night, so why should she play anything tonight? etc., but we managed to coax her to play anyway. Darlene went outside and weeded Mer and Kisa's garden well past dusk.
Marty won her most recent T&E game on BoardgameGeek after months of complaining she didn't understand T&E, so I was hoping to see her kick some keister. (Meredith claims Marty won the game before that too. Can anyone else in SC remember?)
Michelle played fairly aggressively, to the extent that one of the others asked her, "You're not related to someone named Paul, are you?" (Paul_David_Unwin? is well-known for his aggressive scavenging in our group's online games.) Michelle, who only recently moved to Seattle, remarked that she was used to a more "poaching" style of play; our group was playing in an almost multiplayer-solitaire style. There ended up being more conflict and fewer monuments (two) than usual for us. Mid-game, Kisa committed some nasty carnage on Marty, then Michelle did the same to Kisa. Nevertheless, Kisa was avowed universally to be way ahead, and indeed won the game. I don't recall what prize he chose.
Other notes: Mer named the countries on the board according to the leaders they contained; for example, a country with only leader tokens showing lions and vases became "Liurn". Everyone but Michelle was used to playing online at BoardgameGeek, and complained about the amount of housekeeping necessary for a face-to-face game. There was a debate at one point as to whether a knowledge of Tigris_&_Euphrates? is necessary for "gamer literacy". Kisa thought that any concept of "gamer literacy" was arbitrary and obnoxious, whereas I thought that considering T&E is has long been number 2 on the Internet Top 100 Games List (Puerto_Rico? is number 1), claiming to be a player of GermanStyleGames while knowing nothing about T&E is like claiming to be a physicist and not knowing what F=ma means. I thought that as a GermanStyleGamer (though not exclusively, and less so as time goes by), I ought to be able to acquit myself honourably at T&E, which was why I was sitting in. The whole conversation was ironic, since Kisa won the game and I didn't even know how to play.
After T&E, things broke up for a little while. Mer "demoed" her guinea pig Jasper to Nat and Mori, and they decided they wanted one too. Darlene, Marty, Mer, and I chatted in the kitchen until the next game started. At this point, the batteries in my camera gave out, so the rest of this newsletter will be without photos. (My batteries had 80 minutes of charge at the beginning of the evening; my guess is that for some reason my camera did not switch off automatically after the last photo.)
Scores
| | |
| --- | --- |
| PLAYER | SCORE |
| Kisa Griffin | 8 |
| Michelle Lepovic | 7 |
| Meredith Hale | 5 |
| Marty Hale-Evans | 5 |
What happened during this game?
Comments from the players?
--Ron_Hale-Evans?
Mamma Mia!
Game: Mamma_Mia!?
Location: Dining room
Time: 9:25-10:20 PM
Winner: Ron Hale-Evans
Prize: Giant dice

A game about making pizzas. Players play ingredient cards to the center of the table, occasionally throwing in a pizza card when they figure there are enough ingredients in the pile to make that pizza. When the draw pile runs out, the player who drew the Mamma Mia! card (which, as Marty observed, does not show anybody's mamma, but a male pizza chef) deals out the cards in the order they were played. When your pizza card comes up, if there are enough ingredient cards of the right kind on the table or in your hand, you score that pizza. The chef who made the most pizzas at the end of the game is the winner; if there is a tie, the win goes to the player with the most ingredient cards left in her hand. As you might guess, there are strong memory and card-counting aspects to this game. It looks light, but I tend to agree with Marty that Mamma_Mia!? verges on a medium-weight game.
Michelle said she had played the game many times and did not usually see a set of scores this low. Each player can make eight pizzas potentially, and Michelle said she had scored 8 out of 8 herself several times.
This was my first time playing Mamma_Mia!?. I liked it enough that I'll probably buy it soon. I won, too. I selected a pair of giant dice as my prize; I now have six dice, enough to play Can't_Stop? and 10000?, but not yet enough to play Decathlon. I'll stop collecting giant dice when I reach eight.
Scores
| | |
| --- | --- |
| PLAYER | SCORE |
| Ron Hale-Evans | 5 |
| Darlene Hale | 4 |
| Marty Hale-Evans | 4 |
| Michelle Lepovic | 4 |
| Meredith Hale | 1 |
Comments from the players?
--Ron_Hale-Evans?
Castle
Game: Castle?
Location: Kitchen
Time: 9:30ish-11:30ish
Winner: Kisa Griffin
Prize: Issue of Games magazine

Another Bruno Faidutti game, Castle? hit the kitchen table around 9:30. Kisa was the winner, and selected a copy of Games magazine I had donated as his prize. (Marty gave me a set of 25 back issues of Games for my birthday, and I already had several of them, so the new copies went into the PrizeBag. Many of the issues I donated are the year-end specials with the Games 100 for that year in them. Get 'em while they're cold!)
Scores
| | |
| --- | --- |
| PLAYER | SCORE |
| Kisa Griffin | winner |
| Nat Dupree | 3 cards left |
| Mori | 5 cards left |
Comments from the players?
--Ron_Hale-Evans?
Nat really liked Castle and The Reef. She plans on adding both to our game collection at some point.
--Steve_Dupree?
BANG!
Game: BANG!?
Location: Dining room
Time: 11:45-1:15
Winner: Mori, Michelle Lepovic, and Ben Sklar
Prize: n/a

Scores
| | |
| --- | --- |
| PLAYER | ROLE/CHARACTER |
| Dave Adams | Renegade / El Gringo |
| Nat Dupree | Outlaw / Calamity Janet |
| Steve Dupree | Outlaw / Slab the Killer |
| Kisa Griffin | Outlaw / Suzy Lafayette |
| Michelle Lepovic | Vice / Kit Carlson |
| Mori | Sheriff / Jourdonnais |
| Ben Sklar | Vice / Vulture Sam |
Key:
Bold: Player won that game.
Italics: Player was killed.
Bold Italics: Player was killed, but their side won anyway.
--Ron_Hale-Evans?
Kisa took out what Steve, Nat, and I felt where cards that really screwed the outlaws. I felt this was good though, since it gave the new players (Michelle, Mori, and Ben) a good feel for the game, without being killed off early. I was the Renegade, and with the Outlaws to keep up the mystery, and the fact that I had only 3 bullets, I was doomed.
--David_Adams?
Dave, Nat and I all agreed that the removal of a subset of the cards hampered the outlaws. Dave opined on the ride home that us Outlaws had exposed ourselves too early. In a normal seven player game this is a good strategy, since the outlaws can have volcanics, duels, and indians to deal tons of damage to the sheriff before the deputies can react. In this game, perhaps a little more slow preparation might have been called for. But on the bright side at least the game went quickly, and some new players are prepared for next time.
--Steve_Dupree?
Miscellaneous Comments
I was planning on coming, but when 5pm rolled around, I was still in the middle of a no-money, no-limit, Texas Holdem poker tournament I as playing in online at http://www.pokerpages.com
I would have left, except that I was doing very well, and managed to come in 13th out of 450 or so players, when I was finally knocked out at around 9pm. I highly recommend the site, its great for achieving the two goals of: 1) Playing no limit poker with no money, and 2) Playing against competition who actually cares about the result, even though no money is involved. (Due to the tournament format).
Compare this to playing at yahoo games, where many people will call any bet, with anything, no matter what, because they simply dont care. (Because it uses a low-limit, non tournament format, with no incentive to actually play well).
--Alex_Rockwell?
Acknowledgments
Thanks to Marty Hale-Evans for her editing skills, some captions, and the best jokes. Thanks to Steve Dupree for the Lunar Rails photo.
NEXT MEETING
Saturday, 6 September 2003, 5:00 PM at the house of Tim Higgins in Mill Creek (Bothell). Come play for fun and FABULOUS PRIZES from the PrizeBag!
Remember, Seattle Cosmic Game Night occurs every weekend, in one of three locations: Kent, Mill Creek, or Tukwila. Email Ron Hale-Evans for a full schedule and directions. If you come, please bring a snack or drink to share (cookies, chips, soda, juice, etc.)
Supporting Seattle Cosmic and Games to the Rescue
GamesToTheRescue is a philanthropic project of the Center for Ludic Synergy and Seattle Cosmic Game Night. The aim of the project is to provide game equipment and a book of game rules to hospitals, for use by patients and visitors. You can support GamesToTheRescue by buying games via our Funagain affiliate program, buying Seattle Cosmic Gear, and in a number of other ways. See the GamesToTheRescue page for more details.
---